These past two weeks have been filled with crafting! Seriously, if someone had taken a picture of me at any given point in the day, I probably would've looked like this.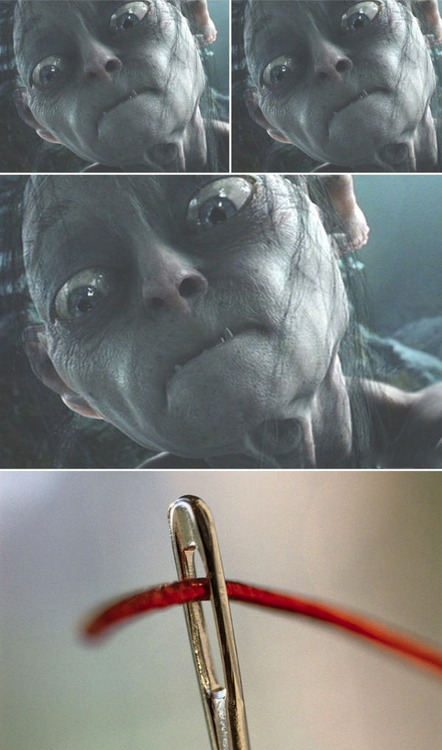 "We must weave in ALL of the ends, preciousss."
Before I get too distracted by photos of Gollum in a pink tutu (can you say HOT?!? Lol. No.), here are my finished projects:
First and foremost is this fabulously soft chevron scarf. Oh, yes. It's made out of Yarn Bee Effervesce, and is awesomely warm.
Next, is headband #1. The body was knitted out of I Love This Yarn!, while the flower was crocheted using Crafter's Secret.
Headband #2 is crocheted completely using Red Heart Super Saver. It's so cute!
Headband #3 was made using Red Heart Super Saver, and I've got to say, despite my never having made a flower with that many petals previously, it turned out beautifully.
This headband is super cool! It's amazingly soft, and so squishy! Plus, it kind of looks like a turban, for all of you fans of Professor Quirrell.
Next, is a reversible hat made out of I Love This Wool!. You know what the crazy thing is? I love this wool.
Yeah.
And, here is the reverse side of the hat! I'm not sure, but I think I like this side better than the other, although the twisted rib on the other side is still awesome!
I whipped up this crocheted scarf in a day! (That's probably, like, a world record.) Of course, I may or may not have stayed up ridiculously late trying to finish it, but whatevs.
DO YOU PEOPLE RECOGNIZE THIS?!? This mesh scarf took me forever to finish. BUT I SURVIVED. And it's so cuddly and squishy!
By the way, I didn't originally plan for the chickens to be in the photo, but they all decided that that tree was the place to be. 😉
As I was posting on my other blog, I realized that I forgot to mention one more project… I finished crocheting a little dog sweater!
XOXO,
Katherine Westerman